KRISHNA - UDDHAVA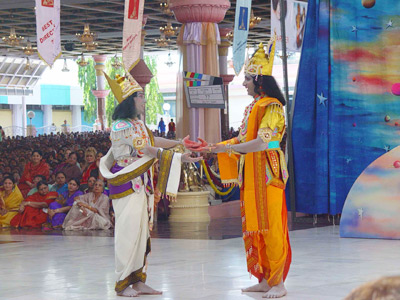 ( A Personal Report)
DATE : 18th JULY 2005
EVENING PROGRAM AT SAI KULWANT HALL - PRASANTHI NILAYAM
On the auspicious occasion of Ashadi Ekadashi , the Sri Sathya Sai Bal Vikas Students and the Youth Wing of Sri Sathya Sai Seva Organisations, Nagpur Zone, of the State of Maharashtra and Goa offered once again, a superlative pefromance, at the Divine Lotus Feet, a musical ballet entitled, 'Krishna -Uddhava'.
Swami arrived amidst the Chant of the Vedas by the students of Sri Sathya Sai Institute of Higher Learning at around 3.15 pm. The program started around 4 pm
The breathtaking combination of colourful costumes, melodious music and scenery presented left everyone with awe.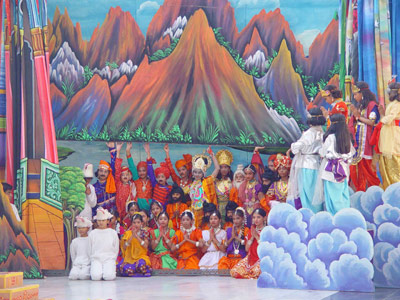 'Krishna-Uddhava' was not merely a ballet – it was a saga depicting the unique love and friendship that existed between Uddhava and Krishna. For Uddhava, Krishna was his very life-breath and for Krishna, Uddhava was his dearest friend- "Param Sakha " .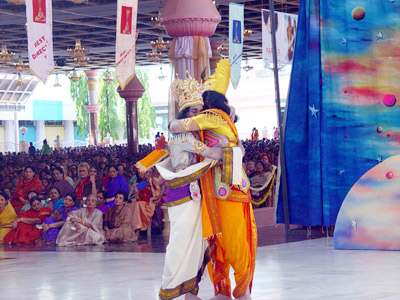 In the words of Krishna to Uddhava:
'Na thatha me priyatham aathmyonirna shankara
Na cha sankarshano na shri naivaatma cha yatha bhavaan.'
'O Uddhava, Siva,Brahma, Balaram,Lakshmi and even my very own
Atma are not as dear to me as you are'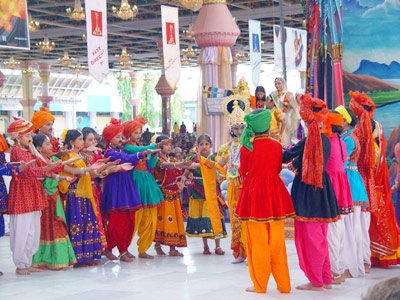 Uddhava's life was a shining example of the confluence of Gyana and Bhakti .Right from a tender age, Uddhava yearned to make Krishna his best friend. Sitting, lying, walking and sleeping, talking, eating and playing with Krishna. Uddhava lived as Krishna's shadow – two bodies with one heart as it were. He wore Krishna's cast off clothes, adorned himself with the sandal paste and garlands discarded by Krishna and ate only the remnants of Krishna's food. Uddhava witnessed and learnt bhakti from the Gopikas and surrender from the Pandavas. Finally, Krishna helped Uddhava to realise his oneness with the Lord. He gifted him His padukas – the symbol of the Divine Lotus Feet and the ultimate goal of all devotees.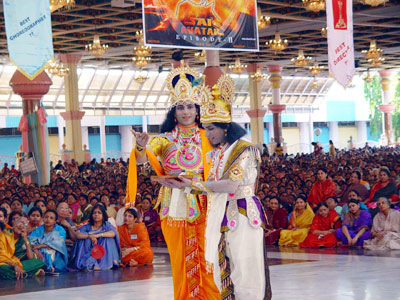 Thus , this ballet had a message for one and all – for every spiritual aspirant, for every seeker of truth. It reminds us in this Kali Yuga, to endear ourselves to Lord Sai and grasp this opportunity to make Sai, our 'dearest friend'.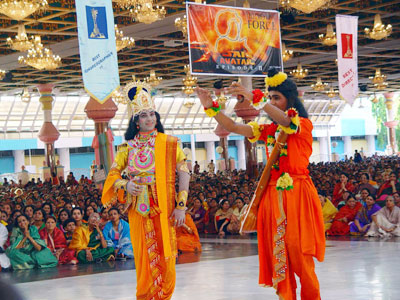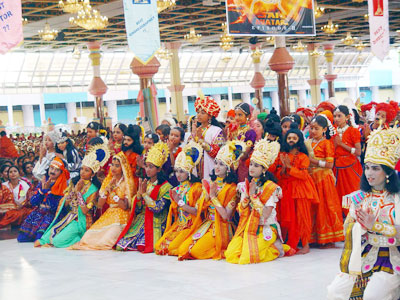 When Swami left the podium, the artistes from the Sri Sathya Sai Organisation of Maharashtra & Goa some wonderful and heart rending bhajans.
Never had I seen the Bal Vikas children so completely drowned in sea of tears when they gathered together waiting for Swami to bless them. Looking at them, I could not stop the tears from falling down from my cheeks......I am still wondering whether it was the role THAT EACH ONE PLAYED TO PERFECTION THAT MADE THEM FORGET WHO THEY REALLY WERE...............or WAS IT THEY WERE STILL PINING FOR THEIR SAI KRISHNA? Only Swami can know about the feelings in the heart of these beautiful children.
After the Aarti, Prassadam was distributed to all who had assembled there. Kudos to the Sri Sathya Sai Seva Organisation of Maharashtra & Goa for their wonderful contributions in producing these excellent performances in the Divine Presence of Bhagavan Baba year after year!