Ashadi Ekadashi 2005 - A Personal Report
GOD- THE ONLY FRIEND - Morning Program - 18.07.2005
A Musical presentation enititled "GOD- THE ONLY FRIEND" was performed by The Bal Vikas Children and Youth Wing of The Sri Sathya Sai Organisation, Maharashtra & Goa before the immediate presence of Bhagavan Sri Sathya Sai Baba at Sai Kulwant Hall on 18th July, 2005.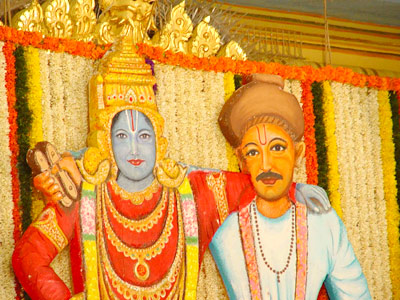 It was a memorable and superlative performance. The Sai Kulwant Hall wore a festive look and was fully packed hours before the program commenced. Banners which displayed the messages "The Moving Force - Sai Avatar Episode II", "The Eternal Witness", "The Ideal Friend", "Kingdom of Heaven" etc, were artistically done by the Youth of Maharashtra.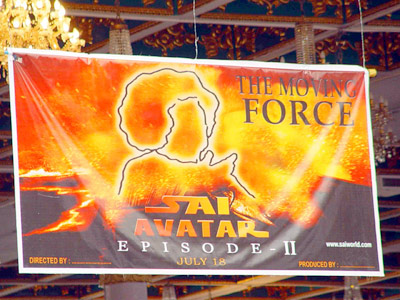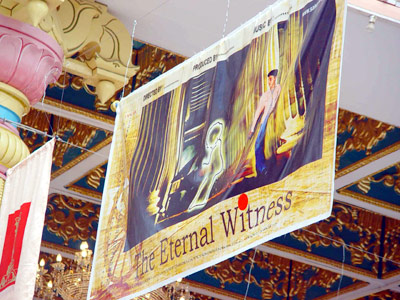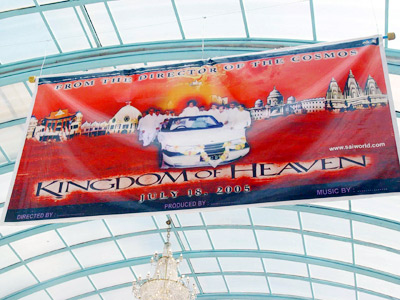 The program started at 9.00 am. Thousands of devotees from all over had gathered at Prasanthi Nilayam to celebrate the Ashadi Ekadashi. Bhagavan went round the entire Kulwant Hall giving immense joy to the devotees. The last two days prior the Ashadi Ekadashi function, the devotees had been pining for the Divine Darshan however on this day, the cup of Divine Darshan overflowed and the devotees savoured each & every moment of bliss.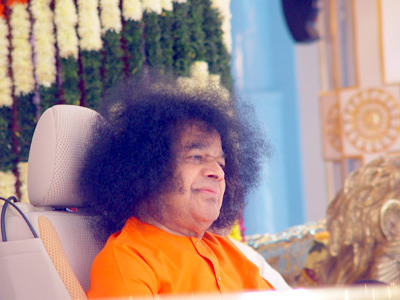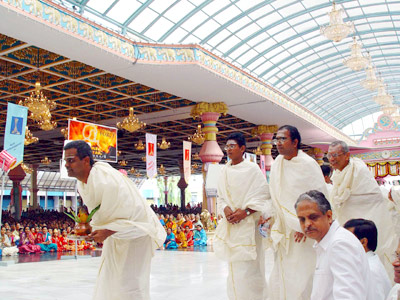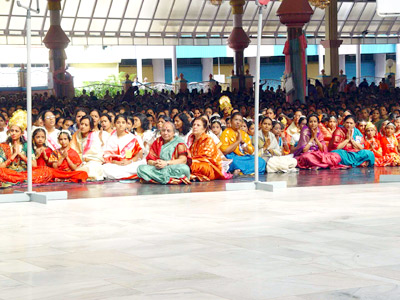 As soon as Bhagavan sat down on the specially decorated podium to receive the traditional welcome by the office bearers of Sri Sathya Sai Seva Organisations, Maharashtra & Goa, the programme commenced with the beautiful Invocation Song:
Mama Sakha Thwam asi Bhagawan
dvaa suparnaa sayujaa sakhaayaa samaanam vriksham parishasvajaate
tayoranyah pippalam svaadvattyanashnannanyo.abhichaakashiiti
Samaane vrikshe purusho nimagnaha
Anishayaa shochati muhyamaanaha
Jushtam yada pashyate anyam iisham
Asya mahimaanam iti veeta shokaha
Satyameva jayate naanrutam
Satyena pantaa vitato devayaanaha
Yena kramnthyaru kshayoho hayaaptakaama
Yatra tat satyasya parama nidhaanam.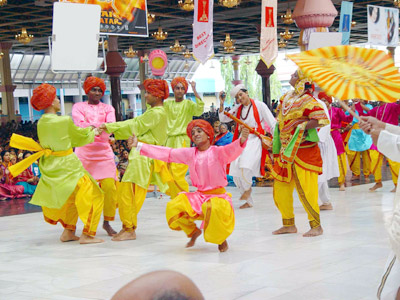 Thereafter, the 'Varkaris' (a party of traditional singers and dancers) performed the traditional dance and set the entire Kulwant Hall alive with divine vibrations. This Dindi Yatra take us to those days when two of the greatest saints of Maharashtra, Sant Jnaneshwar and Sant Tukaram who set out for Pandarpur with their hearts resonating with …Jai Jai Ram Krishna Hari and mind fully engrossed in spiritual ecstasy.
The highlight of this programme was to deliver the direct message of Bhagavan and the Preamble of the play is mentioned below
THE MUSICAL ENTITLED " GOD- THE ONLY FRIEND" IS A TRUE POSER FOR THE WHOLE OF MANKIND. MAN TODAY LIVES IN A DELUSION THAT HE IS THE DOER . BUT IS THAT TRUE? THE ONE WHO CAN SINCERELY ANSWER THIS QUESTION IS THE TRUE DEVOTEE OF GOD. PROBABLY, THE REALITY IS THAT THE DOER IS SOMEONE ELSE…SOMEONE MORE POWERFUL….MORE EFFULGENT ..SOMEONE MORE GRAND . HE IS MAN'S ONLY FRIEND. HE IS NONE OTHER THAN GOD HIMSELF. THE FASTER MAN REALISES THIS, THE SWIFTER WILL BE THE JOURNEY TO THE DIVINE LOTUS FEET. HENCE, LET THERE BE NO MISTAKE IN UNDERSTANDING THIS TODAY THAT THE REAL DOER IS GOD AND MAN IS ONLY A WITNESS .
The colourful outfits wore by the performers gave a professional look to the entire show. The musical background was rapturous. Each and every song was a hit and had catchy tunes.....the best among the songs were
1. You are my Lord and Master...My only Friend and Doer....With you by me, I'm one with Thee.........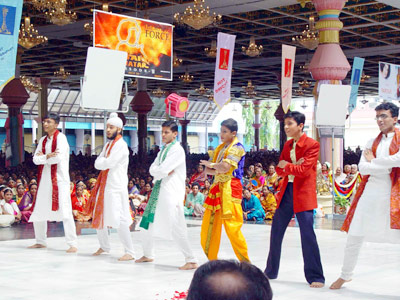 2. When I was just a little boy…….I asked my mother, who's my best friend? ...How will I know him? Where will I find him? Here's what she said to me...Chorus: Sathya Sairam He is our only friend He's with us till the end. Sathya Sairam......
3. KISKA HAI YE TUM KO INTAZAR MAIN HOON NAA... DEKHLO IDHAR TO EK BAAR MAI HOON NAA ... KHAAMOSH KYON JO BHI KEHENA HAI KAHO.... DIL CHAHE JITNA PYAAR UTNA MANGALO.... TUMKO MILEGA ITNA PYAAR MAIN HOON NAA
(....IT A MUST TO HEAR THESE SCINTILLATING MUSIC....The VCDs will soon be out and shall be available at the Sri Sathya Sai Books and Publication Trust, Prasanthi Nilayam)
In the initial stage we see a scene where Amit Kumar the Hero of the Play wins all the awards for the … FOR THE BEST ACTOR…BEST DIALOGUE… BEST COSTUME, BEST DANCE . He was asked to speak a few words after receiving the awards...(the gist of the dialogues are mentioned below)
DEAR LADIES AND GENTLEMEN… WHAT CAN I SAY … I DON'T HAVE ANY WORDS … I AM SO EMOTIONALLY CHARGED. ALL THAT I CAN SAY IS THANK YOU DEAR FANS , THANK YOU… I MUST THANK MY PARENTS FOR BEING A GREAT SUPPORT AND OF COURSE , HOW CAN I FORGET MY WIFE … A ROCK OF STRENGTH BY MY SIDE..
CHAMCHA (WHISPERS AND REMINDS) SIR ..GOD
AMIT : (SUDDENLY) AND YES , YES..LAST BUT NOT THE LEAST I MUST THANK GOD FOR DOING ALL THIS FOR ME…(LOOKS UP) …HOW, I WISH YOU WERE HERE , GOD.
SPOT BOY: AMIT HERE I AM…DID YOU CALL ME..?
COMPERE: SECURITY ….SECURITY, PLEASE REMOVE THIS MAN.. HE'S CREATING A NUISANCE .
(SECURITY MEN REMOVE THE SPOT BOY)
SPOT BOY: LEAVE ME..LEAVE ME... HE CALLED ME …SO I AM HERE.
AMITKUMAR : (CONTINUES) SORRY, LADIES AND GENTLEMEN FOR THE INTERRUPTION BUT THIS SPOT BOY SEEMS TO BE TOO MUCH IN AWE OF ME, I THINK I SHOULD HAVE ACKNOWLEDGED HIM ALSO .. …SO GENTLEMEN ..AS I WAS SAYING I AM GRATEFUL TO GOD ALMIGHTY FOR WATCHING OVER ME AND GUIDING ME AT EVERY STEP OF THIS MOVIE
(DIALOGUE ENDS)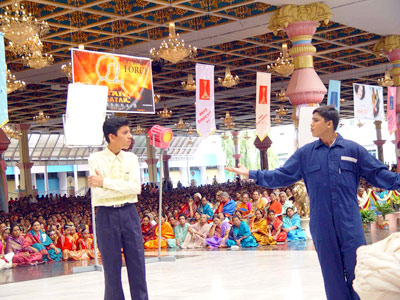 Amit with the Spot Boy
The scene shifts and Amit is in trouble. His new film is facing heavy losses and the distributors are after him for the huge loans which he had taken....
(Dialogue begin:
SPOT BOY : YES, AT EVERY STEP IN LIFE , I HAVE BEEN BY YOUR SIDE , GUIDING, PROTECTING AND FOSTERING YOU .
AMIT : IS IT SO (repeating twice) ..
..........
..........
AMIT : FALLS AT SPOT BOY'S FEET : YES , NOW I REALISE THAT THERE WAS ALWAYS SOME POWER …SOME ENERGY WORKING THROUGH ME AND WAS THAT YOU?
CHANGE OF SPOT BOY TO KRISHNA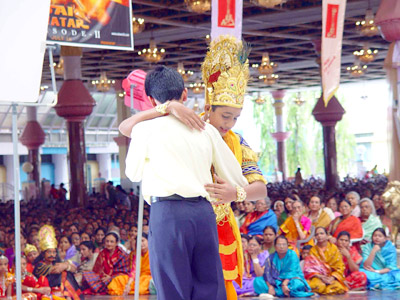 KRISHNA : YES , YOU AND I ARE ONE … I AM IN YOU, ABOVE YOU, INSIDE YOU ,AROUND YOU … I AM YOU … THOUGH I DO EVERYTHING , I STEP ASIDE TO MAKE WAY FOR YOUR GLORY …BUT YOU HAVE SNATCHED AWAY ALL THAT FROM ME COMPLETELY ..AND NOT ONLY THAT YOU BELIEVED THAT YOU WERE DOING EVERYTHING. I DID THIS ONLY FOR YOU TO UNDERSTAND THAT YOU AND I ARE ONE BUT YOU FORMED THE HABIT OF FORGETTING WHO THE REAL DOER IS ?
AMIT ; YES, YES ,MY FRIEND… I AGREE… .YOU ARE REALLY GREAT BUT NOW WHAT AM I TO DO ?..WHO WILL HELP ME PAY BACK ALL THE MONIES. MY NAME HAS GOT TARNISHED …MY FAME HAS GONE …PEOPLE ARE LAUGHING AT ME ..WHO WILL HELP ME …?
KRISHNA SPOT BOY : DON'T WORRY …MAI HOON NA…
SONG MAIN HOON NA
KRISHNA SPOT BOY: LOOK SON, I HAVE SCRIPTED YOUR ENTIRE LIFE …I'M THE KARTA....YOU ARE THE SAKSHI…ALL YOU HAVE GOT TO DO IS TO WATCH YOUR LIFE UNFOLD BEFORE YOU…LEAVE EVERYTHING TO ME …AUR ISI LIYE ZINDAGI MEIN KUH PLAN MAT KARO.. SAB MUJH PAR CHOD DO .SEE… WATCH THIS
MUSIC AND DANCE
(TELEGU SONG _MAN AND GOD ARE ONE . THEY ARE IN TANDEM .. MAN IS BUT A REFLECTION OF THE DIVINE . HE IS THE SPARK OF THE DIVINE . HOWEVER, MAN BELIEVES THAT HE IS THE ACTOR …BUT IT IS GOD WHO IS THE ACTOR .IN THE GREAT DANCE OF LIFE , ALL THAT MAN HAS TO DO IS TO STEP ASIDE AND SEE GOD CONTINUE TO PERFORM …
KRISHNA SPOT BOY : SO AMIT…WHY FEAR WHEN I AM HERE …? REMEMBER , WORLDLY FRIENDS WILL BE WITH YOU ONLY AS LONG AS THERE IS MONEY IN YOUR POCKET BUT I … I WILL BE WITH YOU FOREVER AND EVER
SOUND OF RUNNING FEET
SECRETARY (RUSHES IN ) SIR, SIR …AMITJI ..
AMIT : NOW ..WHAT IS IT?
SECRETARY …AMITJI ..YOUR LAST FILM MAY HAVE FLOPPED IN INDIA BUT THE STORY OUTSIDE INDIA IS DIFFERENT . IT HAS GROSSED TWO MILLION DOLLARS ABROAD .YOUR FILM IS DRAWING LARGE CROWDS ABROAD AND HAS BEEN NOMINATED FOR THE INTERNATIONAL CHANCE FILM FESTIVAL AT FRANCE AND YOU HAVE BEEN NOMINATED FOR THE BEST ACTOR CATEGORY ..........
SCENE CHANGE- INTERNATIONAL AWARDS NITE
..........
AMIT : SIR , BEFORE I ACCEPT THIS AWARD , I WOULD LIKE TO SAY A FEW WORDS… MAY I .. SIR .?. WITH YOUR PERMISSION ADDRESS THIS AUGUST AUDIENCE …?
LADIES AND GENTLEMEN , TODAY I STAND BEFORE YOU WITH GREAT HUMILITY .PEOPLE ALL OVER THE WORLD FROM . EVERY NATION ARE WATCHING THIS INTERNATIONAL EVENT AND TRANSLATING MY SPEECH INTO THEIR NATIONAL LANGUAGES .... CONSCIOUS OF THIS FACT ..I HAVE TO MAKE A CONFESSION ..
(SONG ON WHEN I WAS JUST A LITTLE BOY, MY MOTHER TOLD ME THAT THERE WAS ONLY ONE FRIEND IN MY LIFE AND SHE TOLD ME THAT HE WAS NONE OTHER THAN BHAGAVAN SRI SATHYA SAI BABA)
AMIT: WAKE UP, O MAN, FROM DEEP SLUMBER, FROM THE WORLD OF IGNORANCE . LET THERE BE NO MISTAKE IN UNDERSTANDING ME TODAY . MAN BELIEVES THAT MAN IS THE DOER … BUT THIS IS NOT TRUE … THE REALITY IS THE DOER IS SOMEONE ELSE ..SOMEONE MORE POWERFUL, MORE EFFULGENT ..SOMEONE MORE GRAND . HE IS MAN'S ONLY FRIEND . HE IS NONE OTHER THAN GOD HIMSELF . . I DO BELIEVE THAT THE SOONER MAN REALISES THIS THE FASTER THEY WILL REACH THE DIVINE LOTUS FEET …MAN IS ONLY A WITNESS , THE REAL DOER IS GOD HIMSELF. TILL TODAY, I WAS IN A DELUSION THAT I AM THE BEST ACTOR, THE BEST SCRIPT WRITER, THE BEST COSTUME DESIGNER, … BUT NOW I KNOW THE REAL TRUTH THAT IT WAS THE POWER OF GOD WITHIN ME WORKING THROUGH ME . THEREFORE OBVIOUSLY, I HAVE NO HESITATION IN DECLARING THAT THE BEST ACTOR AWARD DOES NOT BELONG TO ME . BUT FOR THAT MATTER THE PERSON WHO CAN CLAIM CREDIT FOR ALL THE AWARDS IS NONE OTHER THAN BHAGAVAN SRI SATHYA SAI BABA
NOW, LADIES AND GENTLEMEN , IN THIS AGE OF TECHNOLOGY , ALL I CAN REQUEST THE ORGANISERS TO DO IS CARRY THIS SHOW RIGHT INTO PRASHANTI NILAYAM WHERE THE TRUE RECIPIENT OF THE AWARDS FOR BEST SCRIPT WRITER, BEST DIRECTOR, BEST CHOREOGRAPHER , BEST SINGER PERSONALLY RESIDES IN ALL HIS GLORY
SONG : TU ASHIQUI
.....
(Dialogue Ends)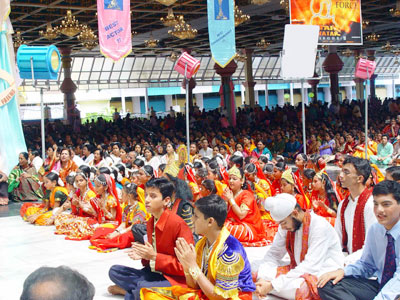 The programme ended with the bhajans on Krishna, Vithala, Panduranga being sung by the artistes from the The Sri Sathya Sai Organisation, Maharashtra & Goa.
Baba was very happy with the skillful display by the Bal Vikas children. After Aarti, special 'Rajgiri' prassadam blessed by Bhagavan was distributed to the entire devotees present at the Sai Kulwant Hall. Rajgiri (very popular in Maharashtra ) is considered to be an auspicious sacred food to be taken on the occasion of Ashaadi Ekadashi. It is made out of Rajgiri cereal, , and jaggery paste, and then cut into oblong pieces.